I have the sweetest valentine of all.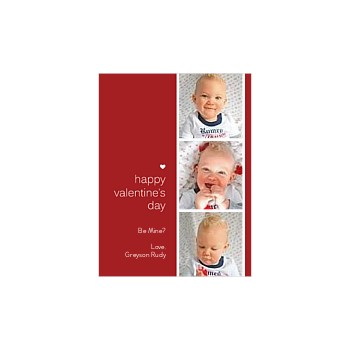 Filmstrip Red Valentine's Day Card
Unique party invitations and announcements by
Shutterfly
.
In case anyone is curious - I love me some Shutterfly. We create, order, & purchase all of our holiday cards through them. They have a fantastic "we'll never delete your pictures even if you haven't ordered them for the past 7 years yet" policy...I have picture albums all the way back from my study abroad experience in Costa Rica in 2004 housed on Shutterfly. They always have great deals happening and discount codes for free shipping. We strongly reccommend Shutterfly for their customer service, adorable card designs, super easy photo book options, and quality prints. I'm just sayin' :)
to boot - they have specials like "post your valentines card on your blog and we'll give you 10 free cards for next time" Do I love them? YES.