Our April this year was chock full of celebrations that we basically spent the month in permaparty mode. We rang in the new month with a 2nd birthday sports party for Greyson. I gave some details
here
(click to see a photo recap of main party highlights). I also wanted to mention that my sisters bought Grey 2 tiny frogs which we loved very dearly
for less than a week
before they both passed on to the great swamp in the sky.
In general, I'm pretty lax about birthday party plans. A part of me wishes I was a mom that could razzle dazzle party guests with elaborate party themes from pinterest like
this
and
this
. But a bigger part of me knows that the kid we're celebrating doesn't even see or care about that stuff. So instead, we opt for super sugary cake from the grocery store bakery, $1 pennant flag decorations from the dollar store, a basketball pinata, and his Mum wearing a baseball tee. Grey seemed pretty pleased with the result, ie. he loved having his friends and family over for cake and playing, hah.
One thing I do spend money on is personalized stationary (invitations & announcements) from Shutterfly. I love them, I think the cat's already out of the bag on that one. I have a spot in my kids' baby books designated for their birthday party invitations, as kind of a yearly log of their change in likes, personality and looks.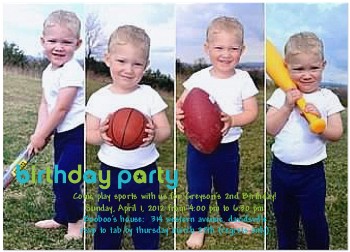 Starry Party Birthday Invitation
As I mentioned in the earlier post, this birthday party was so different than Grey's first party. Booboo spent the whole party playing with his kid guests and family members so that the only time we really sat together was when it was time for his cake.
We may have been celebrating Grey's birthday (one week early), but we had to take a minute out of the day to properly celebrate Greyson's Mimi's birthday (his great grandma). We snuck in the house to surprise her with a little cake and to sing while she was hiding out keeping Gemmi company during the party.
Grey had a good day and got some quality time in with tons of family and friends, including his godparents; Aunt Uch and Uncle Jonny. He is spoiled with the gifts he received, but so lucky to have so many people in his life love him.
My little man is two and breaking my heart already.
After our Greyson's-Birthday-Extravaganza, we took on the next weekend celebrating Easter! I courageously attempted dying eggs with Grey on Saturday morning which really is hardly any fun with a 2year old. I don't know what didn't connect in my mind when I went through my supply list. Somehow eggs+water+dye+wobbly cups+2year old hands+dipping+photo documenting did not = disaster and Mum-frustration initially in my mind. I've never really been very good at math anyway. Lesson learned...do not attempt egg dying with a 2 year old by yourself, Tabitha.
Then end result was half a dozen broken eggs, one major spill of the orange dye cup, and one egg that Greyson called the "Poop egg" because of its color...which you can imagine looked eerily like the color of diarrhea (obviously, this was the one he was most proud of).
We got lucky with a visit with our cousins from Pittsburgh and Michigan while they were in town for the holiday, including my sweet goddaughter, Mallory & her brother. We spent Saturday afternoon jumping on the tramp, playing, and laughing until all kids were sufficiently tired out.
The Sharpe girls, Hunter, & the Studer kids
Mallory & Grey in a water chugging contest
We did all this celebrating and we haven't even made it out of the first week of April yet?! Part II of our April celebrations is up next:) Let's be honest, I cannot add more pictures to this post without the danger of it imploding. honestly.